Purgo Health is dedicated to improving your health, performance, vitality and wellness. Learn more about the power of nature and the finely selected ingredients in our formulas.
Product Description
– Are you one of the millions of people experiencing the symptoms of dependency, struggling to control your alcohol consumption,  battling cravings or simply looking to improve your overall health and well-being?
– How many mornings do you wake up saying "no more" you feel lousy, you're unproductive, and you want to make a change?
–Purgo Health's Anti-Alcohol Aid supplement is carefully formulated with natural, scientifically studied herbs, nutrients and minerals that may help support your detox efforts.
Have you made the tough decision to change? Are you committed to improving your life style?
If so, you want to have Purgo Health's Anti- Alcohol Aid in your arsenal of weapons to help fight dependency.
Battling the cravings is tough, you can do it! It all starts with feeling good in the morning, fresh and ready to go. Elimination of toxins, managing consumption, attitude and support are critical to getting on the right path.
Alcohol depletes the essential nutrients your body needs. Purgo Health Anti-Alcohol Aid helps replenish these essential nutrients and vitamins and support a healthy liver.
If you are looking to support your detox efforts and achieve your goals of independence then Purgo's premium Anti-Alcohol Aid is for you!
Benefits:
-May Help Curb Withdrawal Cravings
-Helps Promote Healthy Liver Function
-Helps Boost Mood and Energy
-Helps support Detox Efforts 
Purgo Health's Anti-Alcohol Aid is a premium non-addictive, non-prescription dietary support supplement that helps promote healthy liver and digestive function. Results may vary from person to person.
Ingredient Highlights
Milk Thistle
Milk thistle (Silybum marianum) has been used for 2,000 years as an herbal remedy for a variety of ailments affecting the liver, kidney, and gall bladder. The active ingredient in Milk Thistle known to protect the liver is silymarin, a chemical extracted from the seeds. Silymarin is a trio of flavonoids (silibinin, silidianin, and silicristin), which are thought to help repair liver cells damaged by alcohol and other toxic substances.  Research studies have indicated Milk Thistle also helps counteract the toxic effect of death cap mushroom poisoning as well as fight cancer by blocking the division and reproduction of cancer cells and shortening their life span.
Kudzu Extract
Kudzu contains phytochemicals, which are potent antioxidant compounds found naturally in plants, that help to prevent and treat disease.  Dating back as early as 600 AD, Kudzu Extract has been used in Chinese medicine as an herbal remedy to treat alcoholism and to reduce symptoms of alcohol hangover, including headache, upset stomach, tinnitus, fever, dizziness, and vomiting.  
The isoflavones found in kudzu root extract are also used to treat alcohol related disorders. Kudzu is beneficial to alcoholism because it is purported to suppress alcohol cravings and reduce alcohol consumption. It also helps to shorten the duration of alcohol induced sleep and lower peak alcohol levels. In addition, kudzu has been found to help reduce the effects of alcohol hangovers, such as headaches, dizziness, upset stomach and vomiting.
Folate (B 6)
Folate plays a role in DNA synthesis and repair, encouraging cell and tissue growth.  Excessive alcohol intake inflames the lining of the stomach and interferes with vitamin absorption, often leading to nutritional deficiency, (especially of thiamine and folic acid). Without supplementation of folate/folic acid, adults may experience neurological problems including anemia, dizziness, weight loss, loss of sensation in hands and feet, depression and dementia.
Thiamine (B 1)
Thiamin deficiency can lead to brain damage and the brain disorder Wernicke-Korsakoff syndrome, a condition that affects memory, muscle coordination, vision and cognition.  Supplementing your diet with Thiamin daily may prevent and reverse existing damage.
Niacin (B 3)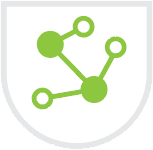 Niacin B3 and other B vitamin deficiency can lead to a variety of neurological disorders including dementia, poor memory and depression. Niacin B3 helps maintain healthy cardiovascular system, brain function, and skin formation. Niacin helps improve circulation, and it has been shown to suppress inflammation.
B 12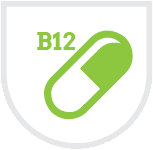 Deficiency of B 12 and other B vitamins can lead to a variety of neurological disorders including dementia, poor memory and depression.  B 12 plays an important role in the production of brain chemicals that affect our mood and proper brain function. During alcohol withdrawal, supplementing with B 12 and other B vitamins may help ease the recovery process.
Holy Basil Leaf
Holy Basil is a member of the mint family and used medicinally in India for over 3000 years. It is a powerful antioxidant exhibiting antifungal, antibacterial and anti-inflammatory properties.  Holy Basil is believed to help treat stress, colds, bronchitis, ulcers, and digestive issues; and promote relaxation.  
Alpha Lipoic Acid
ALA is an antioxidant made by the body and is found in every cell where it helps convert glucose into energy.  ALA is used to help treat Type 2 diabetes, dementia, migraines, glaucoma and kidney disease.
Guarana Seed
Guarana is a plant from the Amazon that contains caffeine.  It is often used to help reduce mental and physical fatigue; as well to treat diarrhea, fever, heart problems, joint pain, low blood pressure, and helps increase urination and blood flow.   
Bladderwrack Root
Bladderwrack is a form of seaweed that has been used medicinally for centuries. The plant contains high amounts of beta carotene, iodine, potassium, and other organic compounds giving it the power to promote healthy thyroid function, reduce inflammation, promote weight loss, and improve digestive health.  
Biotin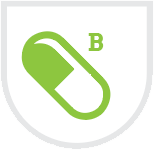 Biotin is vital to many body functions including metabolism and DNA replication. Biotin deficiency disrupts the body's ability to metabolize carbohydrates, fats and amino acids, (the building blocks of protein).  The side effects of biotin deficiency include hair loss, dry scaly skin, dry eyes, fatigue, depression, appetite loss and insomnia.
Dandelion Root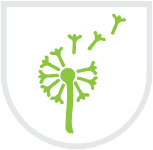 Dandelion has been shown to improve liver function by removing toxins and promoting healthy hydration and electrolyte balance as well as bile production. Every part of the dandelion plant is rich in antioxidants, vitamin C and vitamin A (as beta-carotene) and increases the liver's production of superoxide dismutase.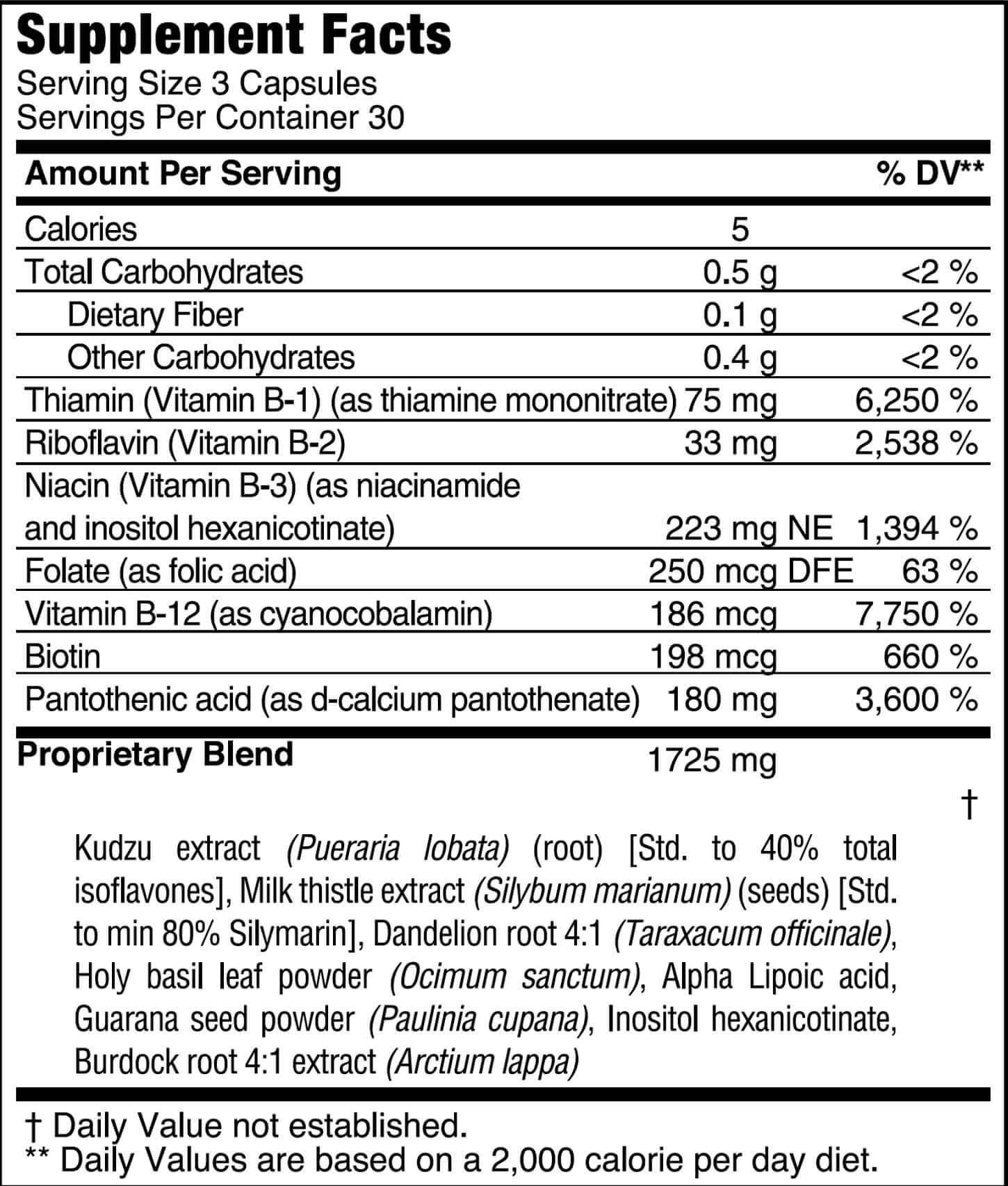 †* These statements have not been evaluated by the Food and Drug Administration.  This product is not intended to diagnose, treat, cure or prevent any disease.